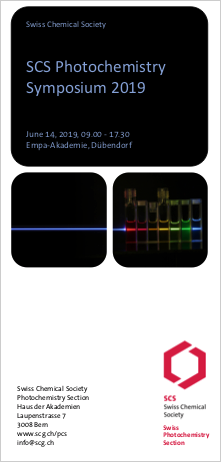 This one-day symposium is an initiative of the Photochemistry Section of the Swiss Chemical Society to promote the exchange within the photochemistry community in Switzerland and beyond. 
The event will comprise scientific contributions from all areas of photochemistry as well as three keynote lectures on the topics of ultrafast spectroscopy, new luminescent metal complexes and solar cells.
The General Assembly of the Section will also take place during the meeting.

 Download the symposium flyer
Do not forget to participate to the contest organized by GMP during the symposium and try to win an iPad. (More information at the registration desk).
---
Keynote Speakers
Prof. Stephen Meech, University of East Anglia, UK
«Transient Electronic and Vibrational Spectroscopy of Mechanism in Photomolecular Motors»
Prof. Katja Heinze, University of Mainz, Germany
«Near-Infrared Emission with Earth-Abundant Metal Ions»
Prof. Natalie Banerji, University of Bern, Switzerland
«Charge generation and transport in organic solar cells»